For this winter the Canadian Cadet Program is offering a day camp, similar to Summer Camp!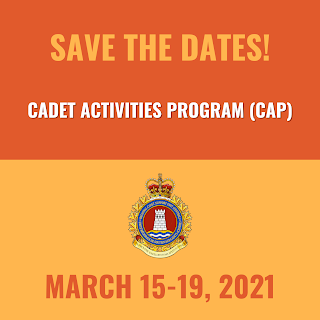 The Cadet Activities Program (CAP for short) is a daytime program, set for March Break 2021, designed to provide safe, fun and challenging in-person activities for cadets of all levels at local sites across Ontario. All activities will be aligned with all appropriate COVID-19 safety guidelines, such as wearing masks, physical distancing, and sanitation practices.
Timings are tentatively between 0800 hrs (8 a.m.) and 1600 hrs (4 p.m.). Transportation will be by parental (guardian) pickup and drop-off. Lunch will be provided. It is likely cadets will be in civilian attire or, if issued, Field Training Uniforms (FTU's). Further information concerning this will be provided at a later date.
Click on the below link for more information and to sign up, either as a paid Staff Cadet or as a participant. The program is available to ALL cadets with priority to Level 1 and Level 2 cadets.
https://docs.google.com/forms/d/e/1FAIpQLSdCmex3HJIJxurgPgejIpm7bcICZ1-acfFt0n99iaR99b1V8g/viewform?usp=sf_link